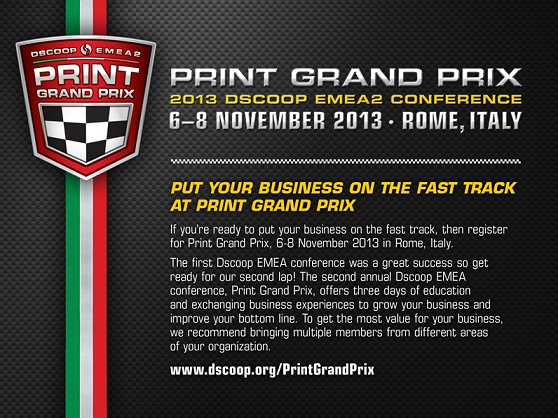 GMP will take part in the

DSCOOP EMEA 2 (November 06~08, 2013) at Rome Marriott Park Hotel in Rome, Italy

as a Gold Partner for HP INDIGO.
This event is designed for HP customers / partners in Europe, Middle East and Africa and this is the 2nd one
since 2012.
PROTOPIC II-540DUAL PHOTO & PROTOPIC AUTO-540 will be displayed in the event for Silver Halide
Replacement System and for Added Value solution for HP Indigo solutions.
Especially, GMP will introduce PROTOPIC AUTO-540 for the 1st time for HP Indigo customers, then
it will be
a good opportunity to show GMP's advanced technology with user-friendly design.
PROTOPIC II-540DUAL PHOTO will be in HP Pavillion Tent with the other solutions for HP and
will show its silver halide replacement system with Photo Quality Embossing Effects.
GMP Booth :
No. 20 in Conference Hall / GMP PROTOPIC AUTO-540
HP Pavillion Tent :
GMP PROTOPIC II-540DUAL PHOTO
If you would have any queries for this event or GMP products, please feel free to send your message
to GMP official e-mail address of trade@gmp.com.
Product Question:
GMP Headquarters in Korea
TEL: +82-31-943-3600
FAX: +82-31-943-4433~4436 (4lines)
E-mail :
trade@gmp.com