GMP International Laminating & Finishing Solution Seminar was held during November 26th~30th, 2018 in GMP Headquarters. This strategic annual event has been helding in last week of every November for CEO of GMP worldwide partners and domestic partners (around 70 persons) to introduce a new technology & new product and to suggest a future strategy for product marketing & sales to maximize customer satisfaction & aggressive marketing as a global company.
For instruction of brand new product, a frameless simple acrylic photoframe solution of

GMP CRYSTALART®/ CRYSTALEX® SYSTEM and economic cost of

CRYSTALEX

® film that blocks UV perfectly and maintain its color for long term period with UV hardcoated treatment. The solutions provides anti-scratch surface & high resolution image with high valueable cost and this was highlighted by attendees. During the event, attendees also had time to make frame with the solutions.
Especially, lamination & frame of large format prints (1.4m width X 3.6m length) with the
CRYSTALART® and
CRYSTALEX®
solutions received much acclaims by attendees. As a related solution, the exclusive laminator for
CRYSTALART®/CRYSTALEX®SYSTEM of CRYSTALAM-25 and CRYSTALAM044 series were introduced.
In addition, flexible packaging thermal laminator for HP Pack Ready Solution that was developed for flexible packaging market by HP - DIGIMASTER-IDH 34PR, LAMIMASTER-IDH 34HS PR and LAMIMASTER-IDH 80HS PR were also introduced. Largeformat roll laminators of GRAPHICMASTER MAX-2500 & GLASSMASTER-220 and POD roll laminators of
EXCELTOPIC-380RZ SLEEK, PODTOPIC-380RZ & AUTO/380RZ were also introduced. Specially, THINKLAM-330 of full automatic pouching laminator was highlighted by attendees during the event.
Besides, 20 models of machine so
lutions including 3D highbuild Sleeking laminator of PROTOPIC-540PATTERN and 10 solutions of new film product were introduced in the event, too.
Additionally, anti-counterfeit & security solution for activation of genuine product, GMP SECUREGRAM and added security leveled with hologram, GMP HIDDENGRAM were shown. The solutions are to activate a genuine product easily with smartphone flash. This high-end security label meets recent market needs and required solution, then it brings many inquiries in domestic market, then GMP expects this can be supplied to overseas market soon.
Above this, many kinds of existing products were also introduced and this will do much for increasing of turnover. During the seminar, GMP suggested a future oriented solutions that satisfy various market needs and value added effects and this brought an opportunity to strengthen the GMP values with the best technology & the best valuable brand in domestic market as well as in overseas marketts. In addition, GMP expects their accumulated product design & production technological knowhow will be related to a cost effective solution that meets customer requirements such as price decrease by saving material cost and improvement of production process.
GMP says,
"

customers

'

needs are being changed rapidly and for this, GMP holds seminar annually to introduce a new product that satisfy diverse cutomers

'

requirements quickly with the lower investment cost & with the higher effective solution.

"
GMP has 69 patents and 55 utility model patents for lamination internationally and domestically. In addtion, GMP has partnership with the largest digital & graphic prints manufacturer of HP INDIGO. GMP leads world laminating solution with brand distributors in 42 countries including European Subsidiary that has more than 100 countries sales networks.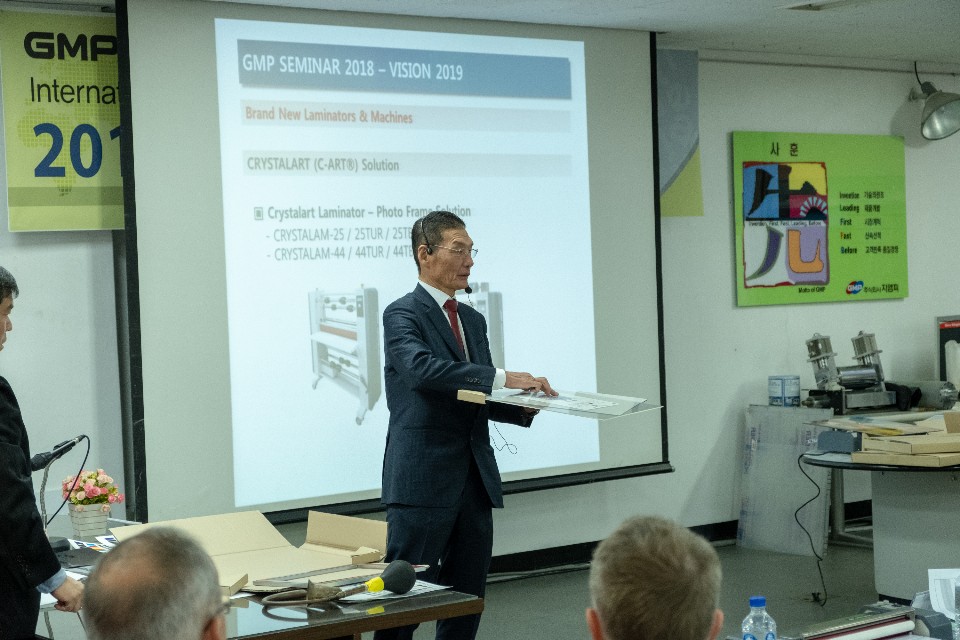 Mr.YP Kim(CEO & Chairman) is explaining the main points of Brand new Laminators.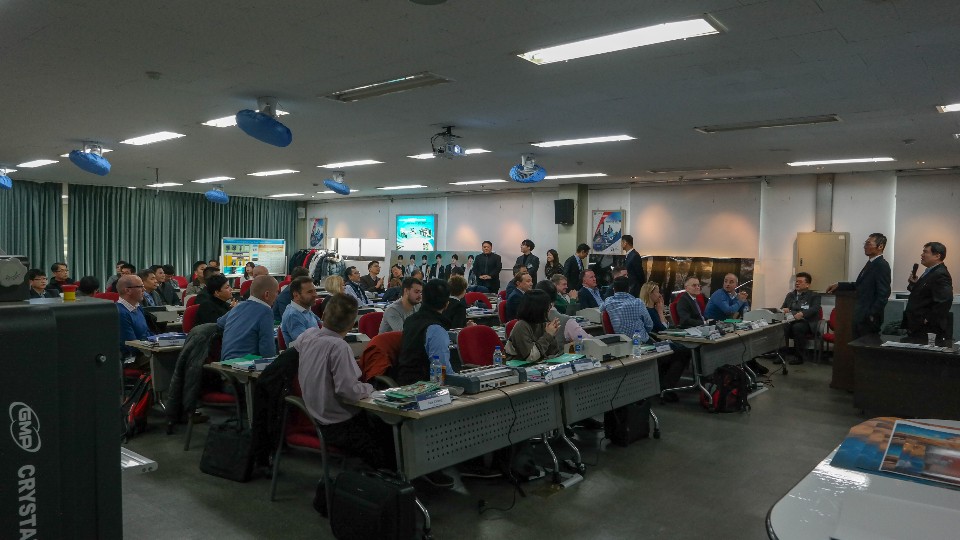 Mr.Ra(Executive Director) is introducing the attendees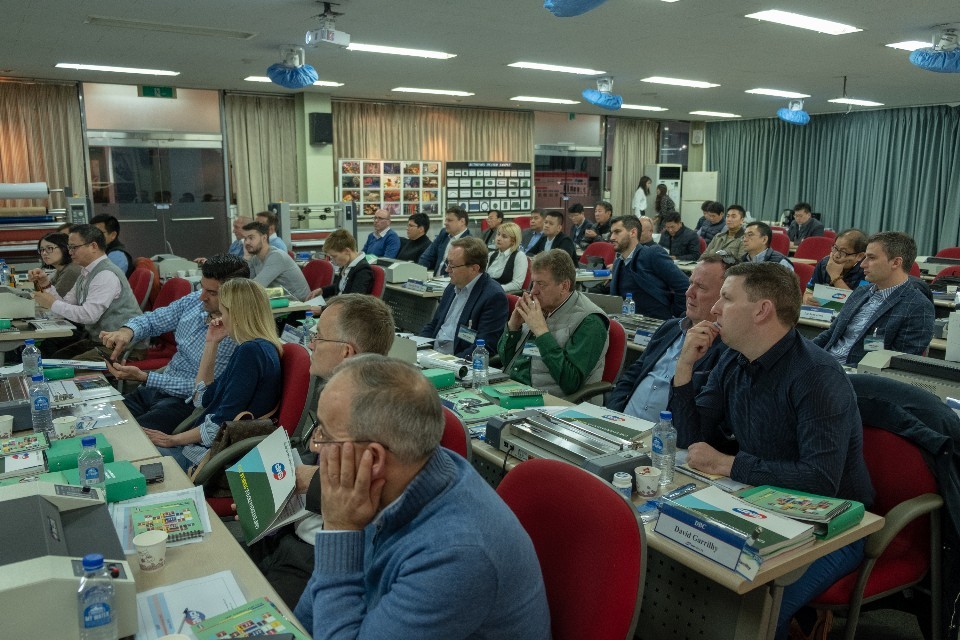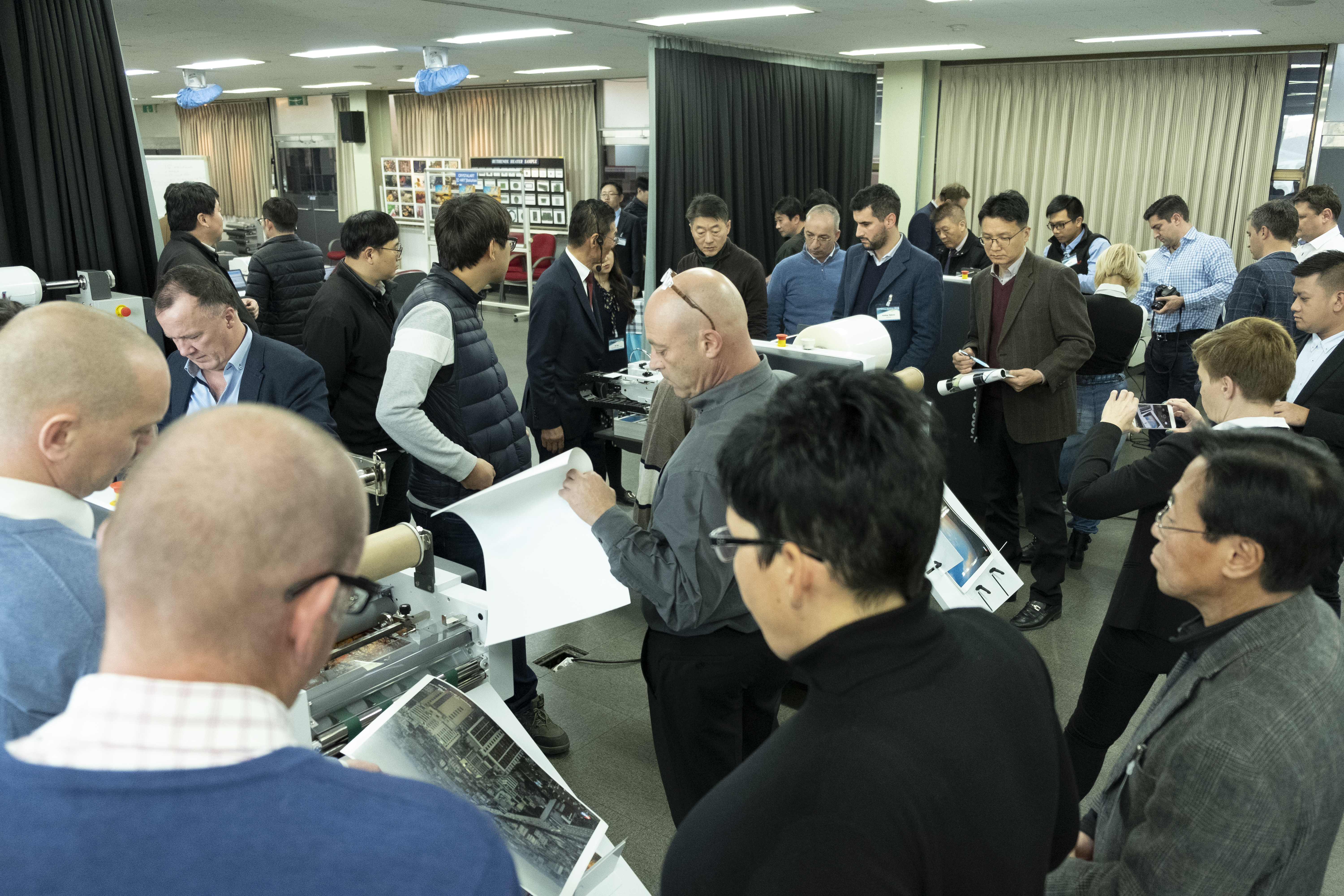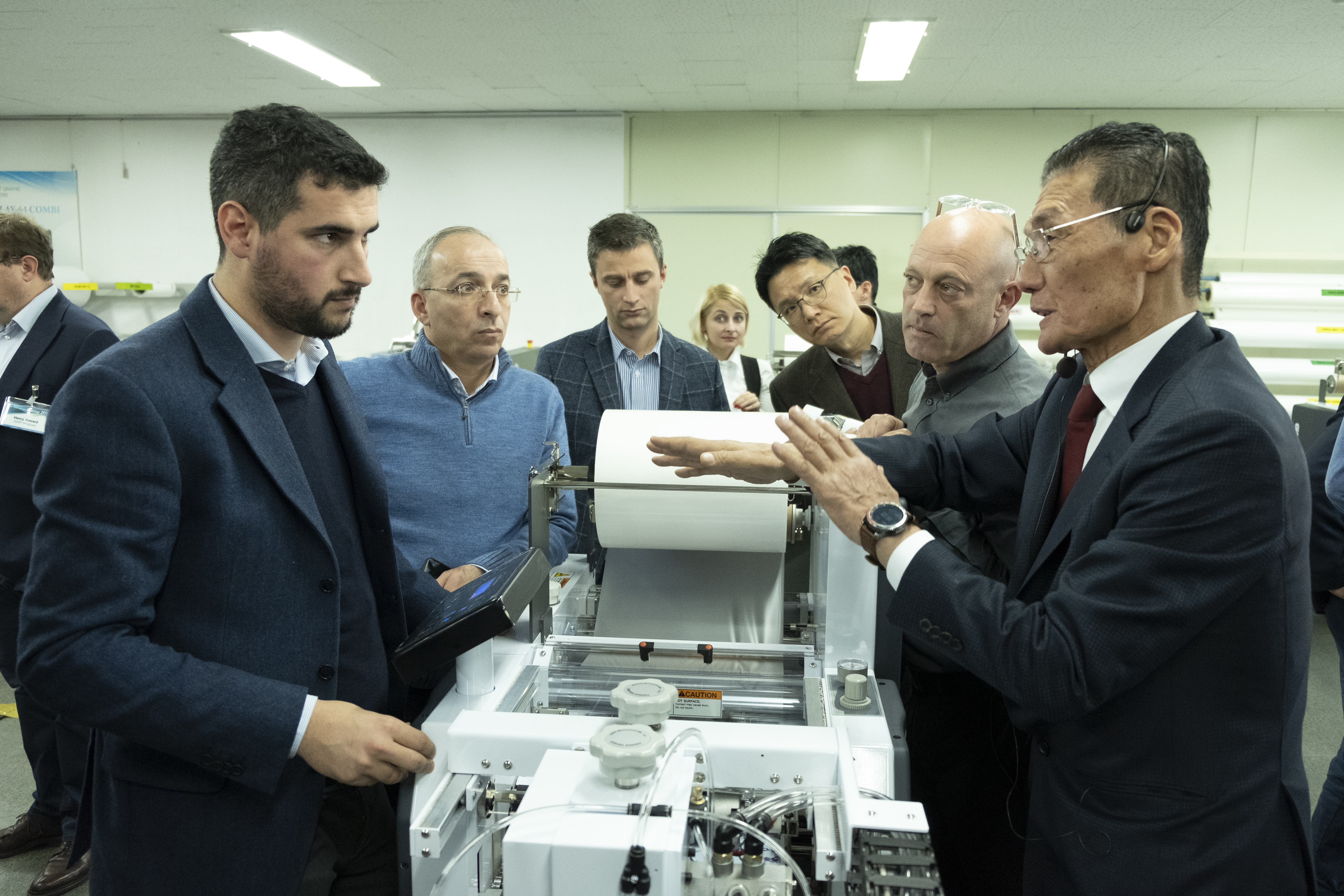 Mr.YP Kim(CEO & Chairman) is explaining the main points of Brand new Laminators with demonstration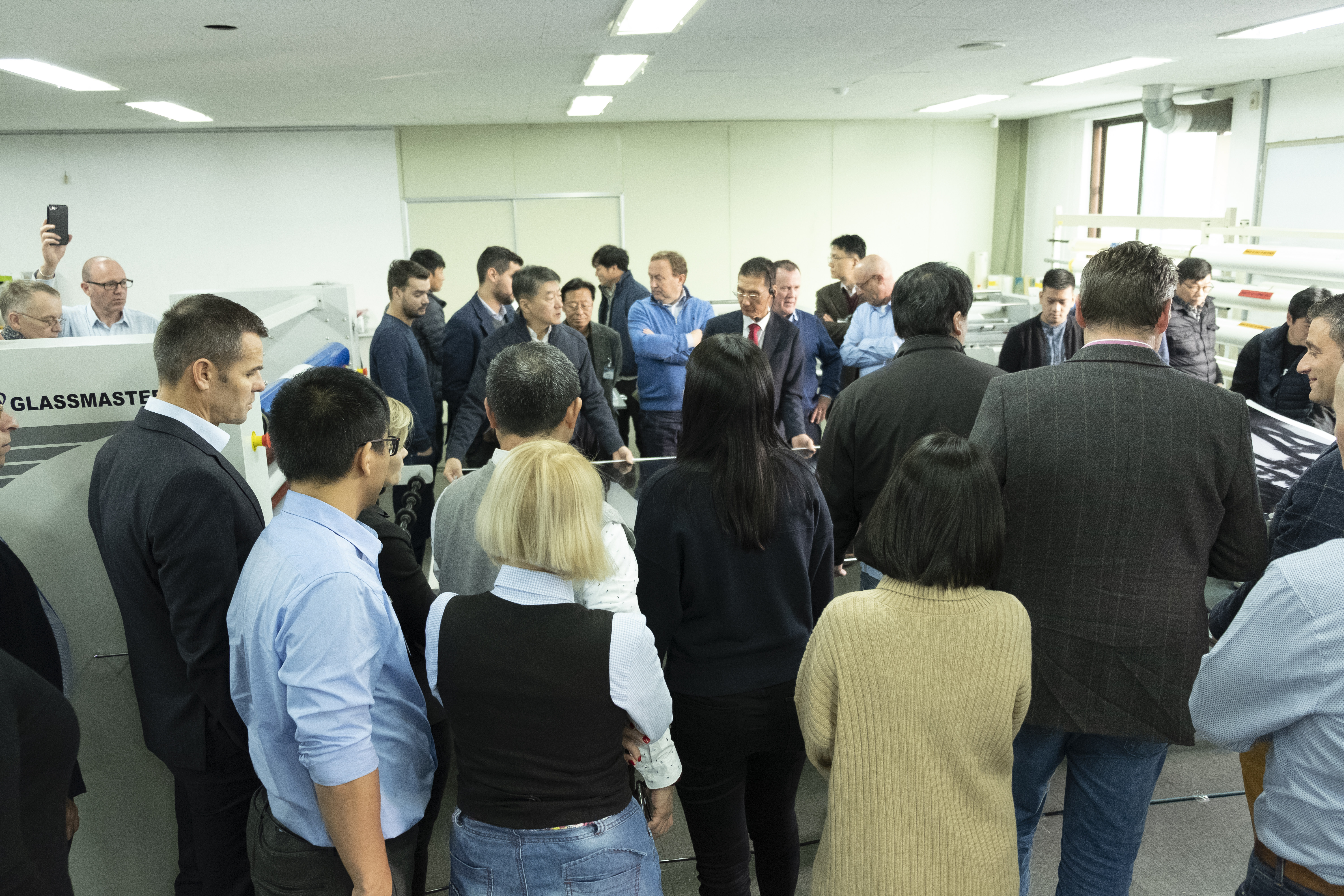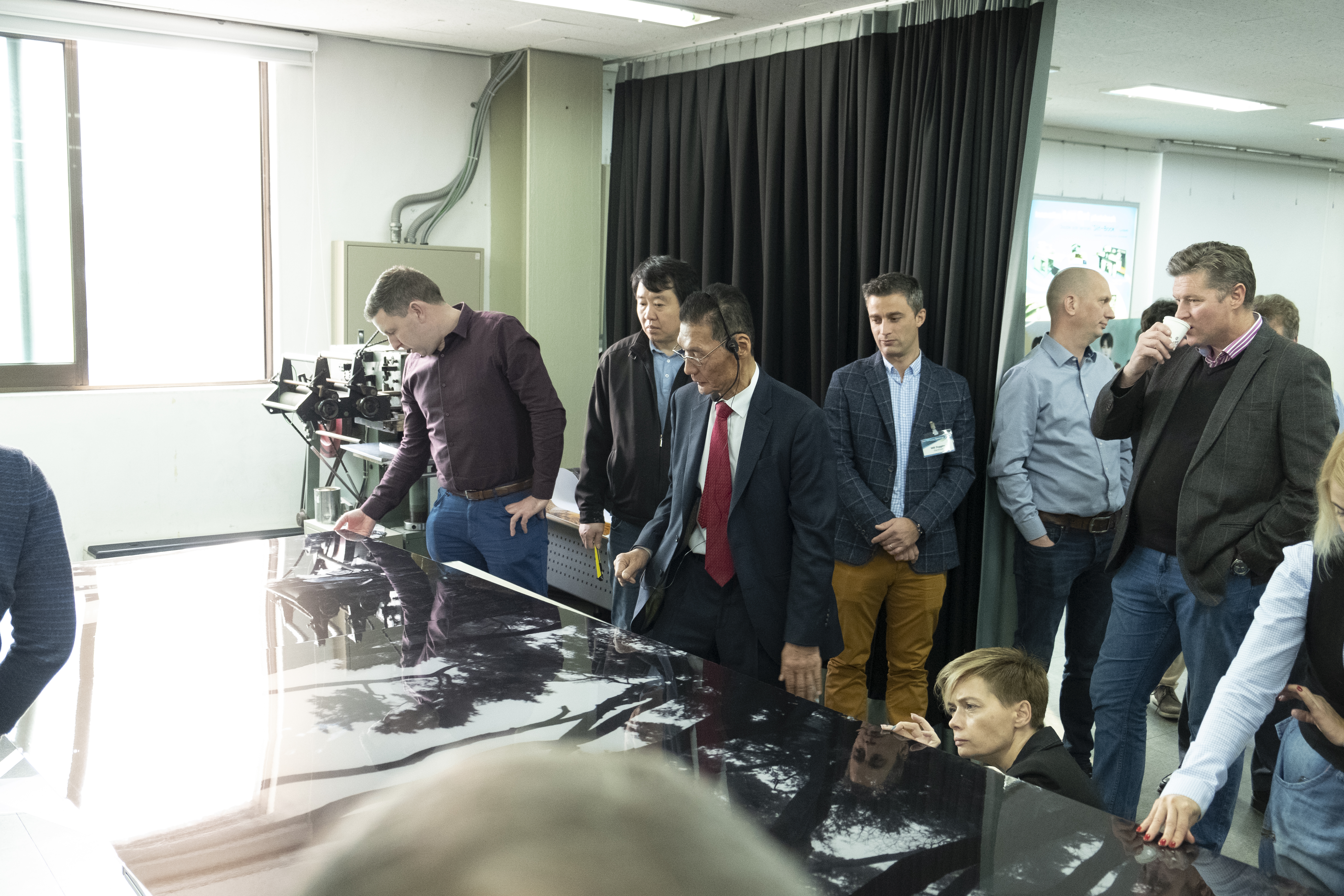 Mr.YP Kim(CEO & Chairman) is explaining Lamination & frame of large format prints with demonstration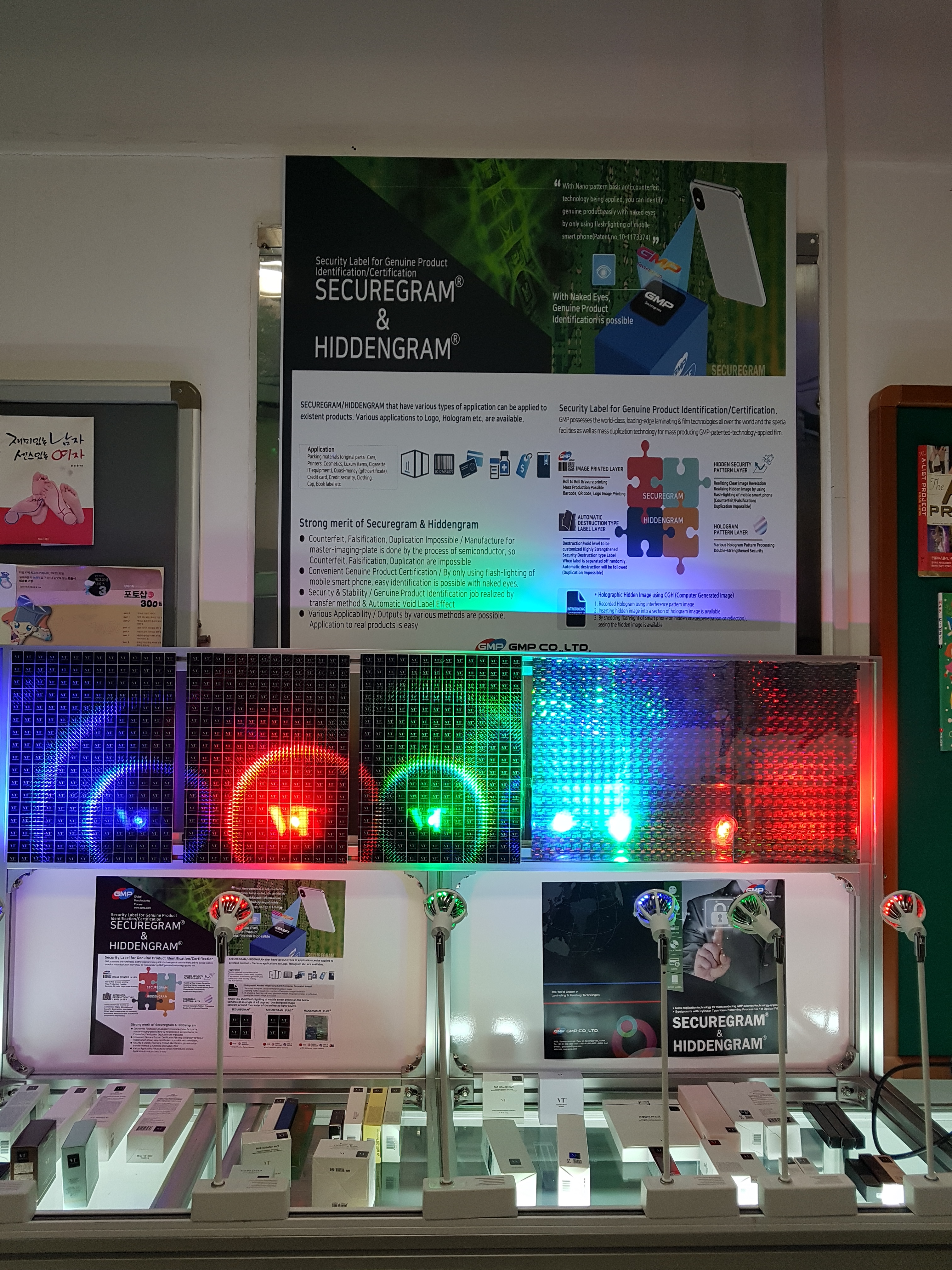 Performing of Securegram & Hiddengram