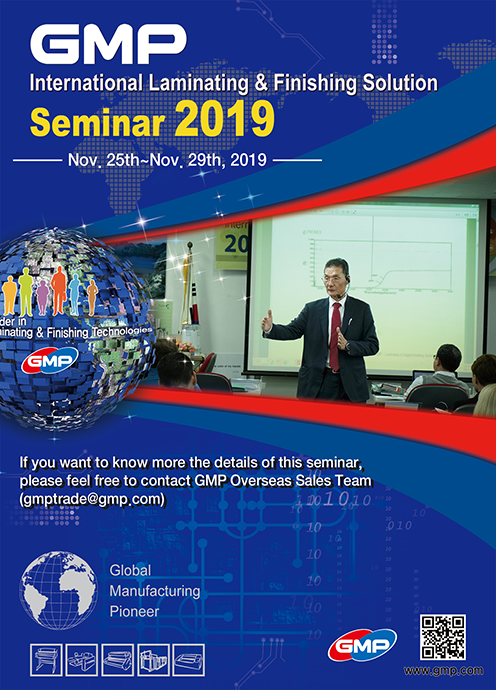 Annual GMP International Laminating & Finishing Solution Seminar for this year of 2019 will be held from November 25th till 29th, 2019 at GMP headquarters in Korea. This event will be the 1st seminar under new company name of VT GMP CO., LTD. after GMP acquired VT COSMETICS to get the further stable sales profit and improve financial structure and to strengthen sales capability by using of the existing overseas partners and distributors network. This annual event is a strategic annual seminar and was designed to provide new products, new technologies and new Chairman and CEO, Mr. YP Kim says "this seminar is to develop a solution that satisfy constantly changing needs of diverse customers and to introduce & train a new products, that is, this event reflects VT GMP's management philosophy of customer satisfaction first.".
In this seminar, diverse products including full automatic pouching laminator of THINKLAM-330H, 3D high-build sleeking solution of PROTOPIC-540PATTERN, low cost large format PSA laminator of LARGELAM-1600COLD series, etc. will be introduced. So, as a "total solution for POD(print on demand) market", VT GMP will solidify its brand value and its best technologies with providing of future-oriented solution that satisfy various customers' needs and value-added effects in this event. VT GMP will keep maintain the world best manufacturer's status with focusing on
development of technologies to manufacture the best quality products in the world.
VT GMP holds 69 domestic and international invention patents and 55 utility model patents related to lamination, and has partnered with HP INDIGO and KONICA MINOLTA, the world's largest manufacturers of digital and graphic printers, and 42 countries including local sales agents in Europe. VT GMP is leading the global laminating solution market by establishing a GMP brand distribution network and exporting to more than 100 countries.