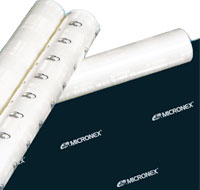 GMP is pleased to announce the development of new version of MICRONEX, tentatively named "MICRONEX-Dura".

Unlike the previous version, this material is designed to stretch and shrink with the inkjet material coated so the "cracking" exhibited in the previous version will not be issue. Chemical-proof, solvent-proof, water-proof and scratch-free. It will also be available only in gloss finish. However, it does not exhibit the non-sticking and self-trimming properties that current MICRONEX has. We recommend not to heat the bottom roller of laminator when operating with new "MICRONEX-Dura".

We believe GMP distributors will be successful with this new product by covering the area which the previous version have not covered.