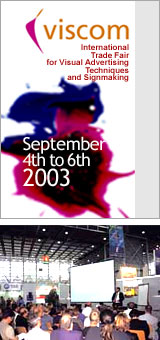 GMP is pleased to announce its participation at Visual Communication Europe 2003 between September 4 ~ 6 at Düsseldorf, Germany.

◎ Booth - Stand Nr: J 19(50 sqm)

All the Prographics products related to signage for Graphics Industry will be there in full gear. Some of the highlights are:

Our main focus for this show is to introduce our new developed laminators GraphicMaster Ⅱ 1600HR, EmboMaster-1100, Excelam Ⅲ 655MICRO, SUMMIT-AF320 POUCH(Clam shell), SUMMIT-AF320 MICRONEX(Clam shell), PROSHIELD-470R4, FASTSHIELD-320R6, SurelamPLUS-800DCS, Display Dual", and to promote Micronex and Micronex Dura + Pronex Cast as a solution for finishing the print outs, especially the Solvent Ink - Prints.

See you at Düsseldorf!