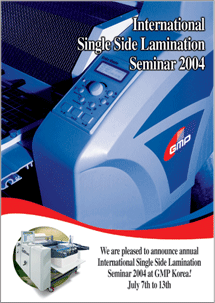 GMP Co., Ltd will have

Single Side Lamination Seminar,

which will be held on

July 9th ~ 13th at KOEX Pacific Hall,

Seoul, Korea.

By this opportunity,

we are very pleased to

inform you of schedule for

Single Side Lamination Seminar

as follows.





Seminar Schedule
Date
Program
Place
July 9
Introduction of Single Side Lamination and OPP
Commercial Film
KOEX
July 10
Hands-on Training on Pioneer and Jaguar
KOEX
July 11
Suretopic, Surelamplus
GMP H.Q.
July 12
Embomaster, Surelampro, Thermal OPP film
construction and Specification
GMP H.Q.
July 13
Individual Meeting
GMP H.Q.

Launching Items
During this Seminar & Training, we will launch all of our Single Side Lamination
Products and these will be demonstrated for your easy and comprehensive
understanding.

PIONEER-800BC (Max. Speed 50M/minute with Burst System)

JAGUAR-PLUS700BC (with Pneumatic Nip Pressure & Burst Cutting)

EMBOMASTER-1100 with Fine Texture (Embossing & Laminating with
MAX. 3 tons of load pressure)

EXCELAM-Q1670RS (Upgrade Speed Large Format Laminator)

EXCELAM-Q1600COLD/RS (Upgrade Speed Large Format Cold Laminator)

AUTO LINE SYSTEMS (Full Automatic Single & Double Side Laminating
System)
▶ Q-Feeder 800
▶ Q-Cutter 800

SURELAMPRO-K380D, 380D

SURELAMPLUS-PCR800DBS

SURETOPIC-500

SUREMASTER-1650 MICRO

GRAPHICMASTER MAX-2220