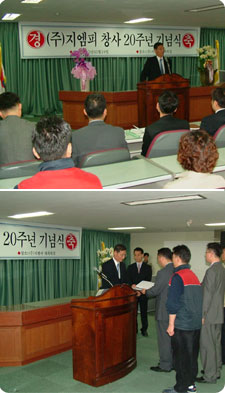 The celebration of the anniversary of the founding was held at headquarters of GMP on 10th May, 2005.

In this celebration, GMP Co., LTD. has recognized the rapid changing international business circumstances and assured resolution for new take-off to top-ranking company in the worldwide lamination & media field.

In addition, there was an event of promotion for some members of the staff as well as a commendation ceremony for long-service staff who have worked in the company for 10 years.

After this, GMP Co., LTD. is doing to best to be a "Super Excellent Enterprise" through the honest and efficient management. Through this opportunity, GMP Co., LTD. would like to express great gratitude to all customers, all stockholders and all business partners for the endless concern and sincere cooperation.