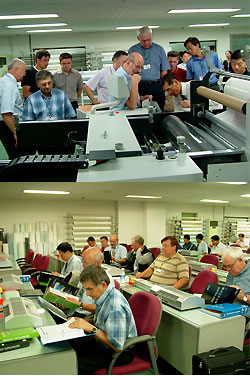 To the GMP Thermalami Seminar 2005!!

During 4days Seminar from August 22th to 25th, GMP Thermalami Seminar 2005 was highly praised by the buyers invited from fifteen countries for the purpose of New Product Education and Technology Transfer that was opened by GMP Co., Ltd that now holding the best technology and the largest market share in the laminating film and laminator world widely.

Every year, GMP helds Lamination Seminar by inviting 40 country Buyers in the winter season, for this seminar we only invited commercial lamination dealers to announce new products and to educate the lamination technologies, contrary to the previous seminar, we are focusing on the "Thermalami System" that was a new foundation for the printing business and publishing business.

In addition to that, we are participating in the international exhibition above three times, spreading our excellent brand power to the world market and the statue of enlarging market share and export expansion as an advanced company.

Especially, this new products, Pioneer 11000BC - High speed single side laminator with a laminating speed of 60m/min. and Pioneer 7000BC - High speed single side laminator with a laminating speed of 35m/min. since Pioneer 800BC has been introduced successfully at the beginning of this year, were introduced successfully and produced Polynex Thermal Film based on the BOPP Film and High bond Polynex Digital Film used for the Digital Printer On Demand.
Polynex Digital Film can be highly compatible with any other materials using printers just like Kodak, HP-Indigo, Cannon, Roland digital printers.
In addition to that, we introduced Nylonex Film for lay flat based on Nylon, developed Solcast for Solvent Inkjet Media, Stickynex for Sticking.

The purpose of this International Thermalami Seminar 2005 was to set up new marketing plan for the Pioneer 8000BC and Pioneer 11000BC, strengthen the partnership with our buyer and improve multi-lateral profit improvement via education on new product and training, in this result we already confirmed order $ 1,000,000 by this program.

Additionally, nowadays We are realizing and enforced the global marketing strategy and the invited buyers sent us high praise on this program mainly due to the new technology acquirement and marketing plan setup.
Next time, we will try to develop high speed thermal laminator with a laminating speed of 100m/min.
In the April, 2006 GMP will have a chance to show and display other new products in the IPEX 2006 (International Printing Exhibition) opened in Birmingham, England.