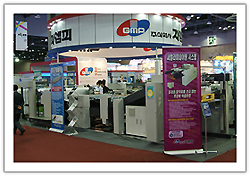 The world best laminating technology leading company GMP Co., Ltd (Booth No. 411) participated in the 15th KIPES 2006 opened in KINTEX exhibition located in ILSAN, Gyeonggi-do, Korea from September 6th to 10th (5days) and once again received a lot of a glowing praise from printing industry, laminating industry, graphic design and book-binding industry parties etc.

As a result of this exhibition, we introduced a various Thermalami? System line-up from the world best laminating speed CHALLENGER 1100D to PIONEER 5000BC, in addition to that installing the latest induction heating roller, having a chance to confirm the laminating technology competitiveness and quality edge.

Additionally, by showing a various our thermal Film, Prographics Film and special film to
the package, printing and design related parties, as a result of this exhibition, it opened an opportunity to create a value added product by embossing, gloss and matt treatment, hologramming, stamping, mounting and transferring etc. .

Afterwards, during the KIPES 2006 exhibition period, through the value added laminating solution using based on the up to date Thermalami? System and laminating solution, 500 visitors to our booth per day and via negotiation with buyers, we are expecting about one millon USD by sales with CHALLENGER Series, Pioneer Series and Thermalami? Film.

Lately, until now, we are sending a lot of thanks for related parties concerned about our Thermalami? System and Laminating Solution.




### KIPES 2006 Preview ###