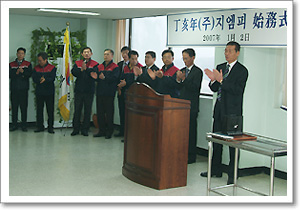 On the early of Monday monring, GMP Co., Ltd has a opening ceremony for the year 2007.
Mr. Y. P. Kim, Chairman & CEO, admired for all staffs' efforts and emphasized repeatedly about an improvement of work circumstances and productivity increases, through work concentration.

GMP has achieved into the black in the past year with reformation movement of management and production activities, consequently assuremed to try to efforts to make more profits in better work circumstances.

GMP had a performance of prayer to appreciation of closing the year safely and opening the year newly entitled "Production Targeting Achievement and Prayer Safety", too.