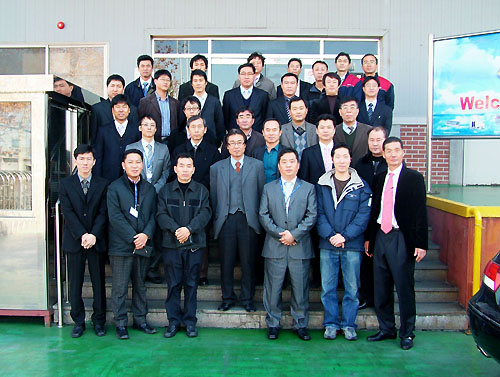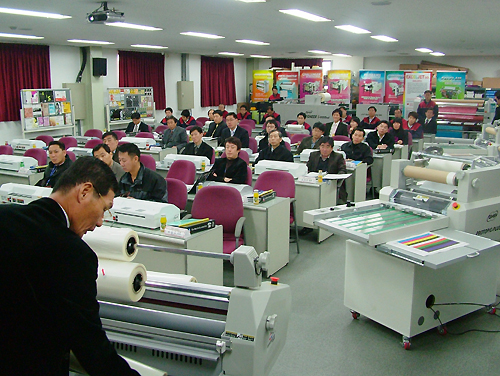 GMP Co., Ltd. (Chairman & CEO: Mr. Y. P. Kim), which has the biggest world market share and retains the world-best engineering technology in same industry specializing in Laminating Machinery and Laminating Film held an Seminar entitled "GMP Domestic Thermalami & New Products Seminar 2007" on 26th December, 2007.

For this Seminar, 33 companies (38 persons) took part in the Seminar such as famous Domestic Digital Printing Companies, Print On Demand Companies, Korea Digital Printing Association including 17 GMP Local Agents

This Seminar was designed to advertise GMP Thermalami System and New Products for our Domestic customers & to revitalize the Sales Marketing. GMP already had successful results from the Annual International Seminar of GMP International Lamination Seminar 2007 that was held from 3rd December to 7th December, 2007 with 60 persons from 35 countries.

During this Domestic Seminar, many kinds of products were introduced and among the new products, Ultra Bond Film (Bonding Power of the film is stronger than the existing films by 3 times.) was highlighted to be a good solution for Digital Printing problem of adhesion strength with oil-added ink. This Ultra Bond Film remove the existing problem of adhesion strength in this market and is expected that will bright the market outlook.

In addition, the attendants have experienced the excellent & high technology of GMP Thermalami System with public demonstration & operation by themselves and in-depth education for the system makes good sales base for domestic market

Especially, EXCELJET-SOL Series (GMP Solvent Media) that was made by the GMP developed special adhesives was given a favorable reception for absorptiveness, dryness, adhesion, etc.

Every companies that took part in the Seminar including GMP Local Agents could confirm again the superiority of GMP Technology and Products and this will bring reinforcement of mutual relationship and will be a chance to increase the profits with continous marketing.