GMP will be participating at DRUPA 2008 in Dusseldorf, Germany which will be held from May 29, 2008 to June 11, 2008. DRUPA is the largest Print Media Industry Related Exhibition in the world, which is held once in a 4 year.
It is one of the World's largest four exhibitions that demonstrate the newest technology for production and after production manufacturing industry of Media.
GMP will introduce and demonstrate Ofset Print, State-of-the-art Thermalami Machines for Digital Printing, and Thermalami Films.
DRUPA will provide the opportunity for GMP to broaden its business to Global Market by demonstrating print industry related new products.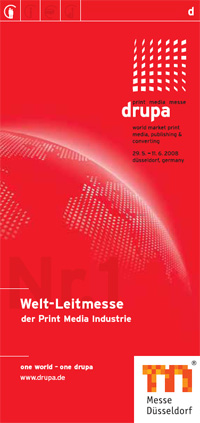 Introduction of DRUPA 2008
※ Name of Exhibition : Dusseldorf International Printing and Paper Manufacturing Technology Exhibition (DRUPA 2008)
http://www.drupa.com
※ Period of Exhibition : May 29, 2008 ~ June 11, 2008
※ Scale of Exhibition : 1,866 Companies(52 Countries, 1,151 International Companies)
※ Location of Exhibition : Messegelanede Duesseldorf
※ Location of GMP Booth : HALL 11 - E27
※ Scale of GMP Booth : 234sqm (26 Booth)
※ Exhibition List
| | |
| --- | --- |
| Machine | Thermalami Films |
| EUROCOATER-04M UV | POLYNEX |
| CHALLENGER-PLUS1020J | ULTRABOND |
| CHALLENGER-ECO1020J | ANTISCUFF |
| PROTOPIC PLUS-520 | NYLONEX |
| EUROLAM 520 Series | HOLOGRAM |
| | |
| PIONEER II-8000 DUAL | SILVER-PET |